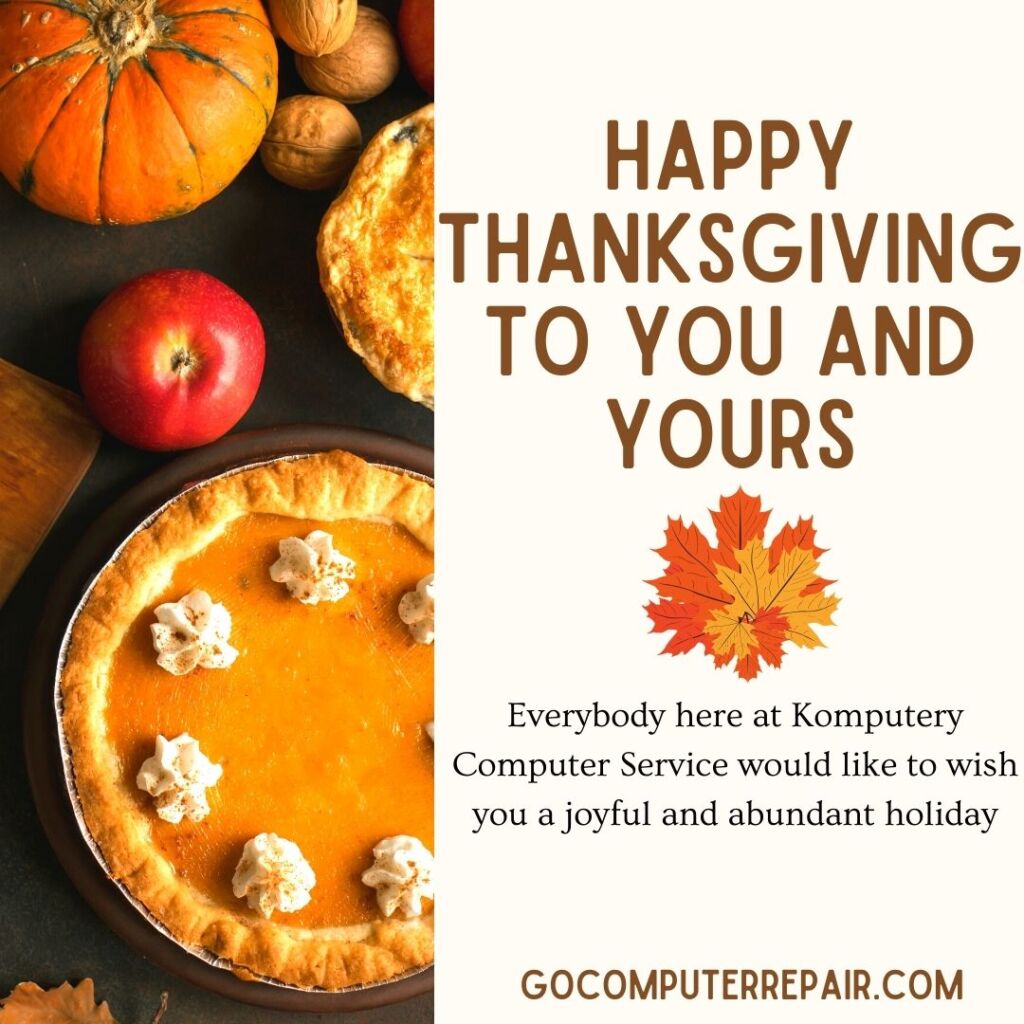 Embrace the joy of Thanksgiving with a grateful heart for you have been blessed in ways you may not yet know.
The holiday season is a perfect time to kick back, feast and simply enjoy the things we take for granted.  Whether it is love, health, happiness, warmth, compassion, opportunity or a myriad of other blessings, there is much to celebrate.  Even simply the fact that we made it this far or weathered a whirlwind 2020 is cause for joy.  No matter how you celebrate, with whom you do or even if you don't at all, everyone at KOMPUTERY Computer Repair would like to wish you a very Happy Thanksgiving.
As the holidays approach and another freezing Chicago winter sets in, this is the perfect time to snuggle indoors and do your shopping online.  Don't let that cracked screen or blue error warning ruin your season.  Take a look at what a great Computer Repair Near You can do to get you up and running before you know it.
A little overwhelmed listening to your uncle's rant on politics?  Tired of the same five stories about a vacation that happened 30 years ago?  The holidays can be a wonderful time to share with family but sometimes you just need a small break and a slow, lagging computer simply will not do.  Slow computers are often a sign of a virus but there are other symptoms you should watch out for.  Check out the Signs Your Computer Is Full Of Viruses.  The quicker you know there is a problem, the faster you can get it fixed and get right back to enjoying your holidays.
No matter whether you use your device for mindless entertainment or to tackle that Christmas gift shopping, don't let small repair issues get in the way.  At KOMPUTERY Computer Repair, our technicians use innovative solutions and quality products to get you back on track quickly.  Whether you have a crashing computer, cracked tablet, or suspicious activity occurring, our computer repair pros can help.  Give us a call today to see what services we can perform for you.
To have your computer cleaned from a virus or to ask about our other repair and installation services, please contact

KOMPUTERY 

Computer Repair

 today!
English Number:  708.667.4195
Polish Number:  708.667.4201