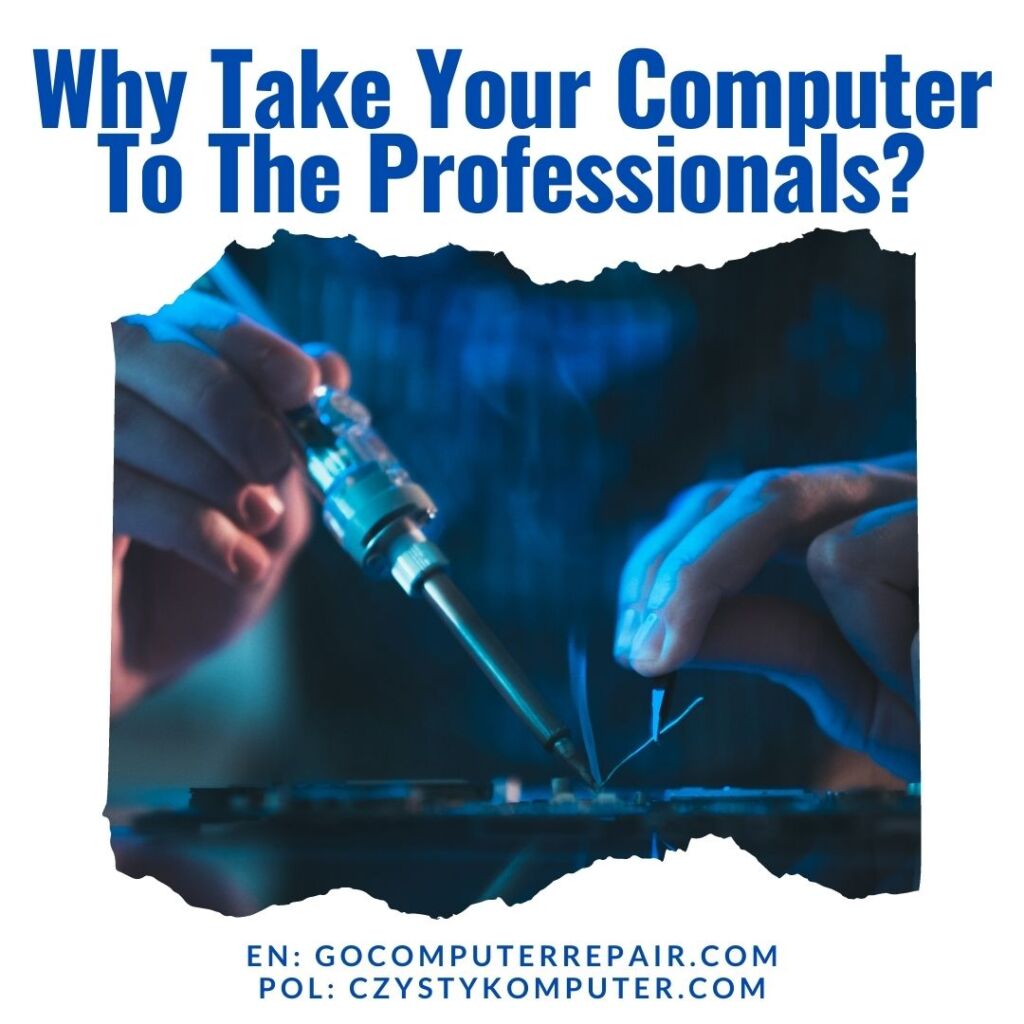 We rely on computers, tablets and smartphones so much in our daily life that having one not work right can cause us big headaches.  Whether you need them for work, to connect with family or simply stop boredom, you depend on those devices.  Having a broken or malfunctioning computer is truly disappointing but should you fix it yourself or take it to the professionals?
It's tempting to try and fix electronics on our own but there are a few critical reasons why your computer should be taken care of by reputable computer repair technicians.
It Can Be Risky – Basic fixes can be simple, such as replacing the battery on your laptop, but repairing a screen or replacing a hard drive are much more difficult.  If you aren't familiar with the crucial internal components and don't have experience dealing with these parts, you can cause even more damage.  Not only could you potentially break delicate internal equipment, you also run the risk of losing all your data.
It can be tempting to try and save a few bucks by performing repairs yourself but computer hardware isn't very forgiving for the inexperienced.  You might want to play it safe and take it to the computer repair professionals.
Save Money – You may think that you're saving money by performing your own repairs but, if you attempt a complicated fix and fail, you can make the issue worse.  This can end up costing you more money in the long run to not only fix the original issue but the ones created during the do-it-yourself process.
Save Time – Let's face it, sometimes troubleshooting can be a blessing and other times, a curse.  If an issue is complex, it can take quite awhile to discover the right solution.  It takes patience to explore all possible avenues.  A computer professional possesses the knowledge of what is likely causing certain problems and the skills to find the right solution to repair it.  Basically, they can get to the problem quicker and are more likely to have your device up and running faster.  While they're doing this, you can focus on your job, family, errands or other important tasks.
Peace Of Mind – You can relax knowing that trained professionals are carefully handling your device and performing necessary repairs or maintenance.  Most computer repair shops even offer a warranty on their work so you know that if something else goes wrong or the original issue persists, you can have it taken care of without fuss or crazy expense.
Saving Your Data – Whether it's your computer or smartphone, keep in mind that a professional is also much more likely to save your data and will put focus on backing it up.  It's very easy to lose data if you aren't experienced with fixing hardware so this is probably the BEST reason to take your device to a repair technician.
Before you DIY or hand it off to a friend, consider these benefits and what will work better for you and your device.  In the end, your complex issues might just be better off in the hands of your local computer repair professionals.
To have your computer cleaned from a virus or to ask about virus protection, please contact

KOMPUTERY

Computer Repair

 today!
English Number:  708.667.4195